Robert Franz
Ordinary Man, Extraordinary Songs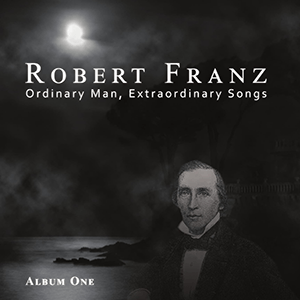 Learn all about this project by visiting FranzFound.com.
To purchase a Digital Download of Album One, click HERE (it's also available on iTunes).
Biography
Tim Krol is a lyric baritone based in New York City. His repertoire spans from early music to modern classical and opera, as well as musical theatre and jazz. For nine years, Tim performed and toured worldwide with Chanticleer, America's premier a cappella vocal ensemble. He can be heard on thirteen Chanticleer recordings, including the Grammy Award-winning "Colors of Love." As a Bach specialist, Tim has performed many of Bach's cantatas, masses and Passions throughout the United States. He was an Adams Fellow at the Carmel Bach Festival in 2004, and has attended the festival every summer since then, singing various choral and solo roles. Tim also portrayed Pilate in the critically acclaimed staged production of Bach's "St Matthew Passion," directed by Sir Jonathan Miller, at Brooklyn Academy of Music.
Tim was a soloist with the famed "Sacred Music in a Sacred Space" series at St Ignatius Loyola in NYC, in Bach's "B Minor Mass." He was also featured in two different productions of Leonard Bernstein's "Dybbuk" with the San Francisco Ballet. He trained with a Greek Psaltist and a Swami in order to prepare for his solo debut with Minnesota Orchestra and the world premiere of "Ikon of Eros" by Sir John Tavener. In the critically acclaimed recording of David Conte's chamber opera, "The Gift of the Magi," he played the lead role of "Jim." He performed and recorded three song cycles by Thomas Oboe Lee: Gregory Corso's"Marriage;" Oscar Wilde's "De profundis;" and Ivor Gurney's "The Pity of War." Tim's album of a cappella lullabies, "All Through The Night," which he produced and sang with three Los Angeles colleagues in 1989, now reaches a worldwide audience, thanks to Amazon, CDBaby.com and iTunes. Tim performs regularly with Trinity Choir, American Symphony Orchestra, New York Philharmonic, Sacred Music in a Sacred Space, and Musica Sacra. He made his solo debut with the Berkshire Choral Festival in August 2016, singing two different roles in an oratorio by the late Stephen Paulus, "To Be Certain of the Dawn." In October 2016, Tim joined Clarion Music Society on a tour of Russia, then London, to celebrate the release of Clarion's latest discovery of composer Maximilian Steinberg's stunning a cappella work, "Passion Week." The album was nominated for a 2017 Grammy Award for Best Choral Performance.
Discography

Trouble sleeping? Or is it baby that needs some help? Try hospital recommended "All Through The Night A Cappella Lullabies" available now at CDBaby.

Ikon of Eros is a world premiere by the inimitable Sir John Tavener. This Minnesota Orchestra recording features Jorja Fleezanis playing solo violin (almost continuously throughout the piece!); Patricia Rozario, soprano; the Minnesota Chorale; and Tim Krol singing Greek and Sanskrit chants in the first, third and fourth movements. --Available at Amazon.

David Conte's chamber opera based on O. Henry's short story, The Gift of the Magi, libretto by Nicholas Giardini. I play Jim, the guy who sells his watch to buy combs for Della, his sweetheart --only to find out she's sold her beautiful hair to a wigmaker so she could purchase a chain for Jim's watch. --Available at Amazon.








For nine years Tim Krol sang with Chanticleer, America's premier male a cappella ensemble. --Available at Chanticleer.
Press
CONTE: The Gift of the Magi
Puente, Bocharova; Krol, Runyon; The San Francisco Conservatory New Music Ensemble, Paiement. English text. Arsis CD 141
The Gift of the Magi, David Conte's operatic adaptation of the famous O. Henry short story, begins rather blandly. A sweet orchestral introduction leads to the opening scene of Della singing a sweet, wordless melody while combing her hair in front of the mirror, observed by her loving husband Jim who sings a sweet, adoring counterpoint to her vocalise. The music is well orchestrated, vocally sympathetic, and pleasant to listen to, but not particularly deep or original. It was tempting to write the piece off as well-made but undistinguished.
Not so fast! By the last of the opera's four scenes, as the impoverished lovers begin to discover the sacrifices they have made for each other (he has sold his watch to buy her a coveted set of combs; she has cut her hair to buy him a gold chain for his watch), the level of musical dramatization reaches a whole new level--it becomes simultaneously delicate and intense, and free of cliché. Suddenly, this illuminates the entire beginning--the surface charm of the first scene reflected the relative superficiality of the couple's relationship. Now that they have both sold valuable possessions and are left with nothing of material worth, only love remains. The music makes it clear, however, that it's love of an altogether different variety than what they experienced before. Their final duet, accompanied by a graceful rocking figure, begins with Jim singing "I've never really seen all that you have been." The music has never been like this either.
Fortunately, things get interesting well before this dénouement. Della and Jim each have colorful scenes with their respective best friends. (The plain-spoken but lucid libretto is by Nicholas Giardini.) Maggie (Elena Bocharova), summoned urgently by Della, sings "Tell me before I explode," and it sounds like she might. Jim's scene with Henry (Chad Runyon) takes on a jazzy character, with rhythmic references to the opening of West Side Story. The duets in both scenes are absorbing and well drawn, with good blend from the pairs of singers. As the poor but happy couple, Aimée Puentes and Tim Krol both have natural, attractive voices and a winning immediacy of delivery. The student members of The San Francisco Conservatory New Music Ensemble, under Nicole Paiement, play the score confidently, as if it were a familiar repertory item. Also memorable is an excellent trio of male singers which makes two brief appearances as the Magi, reminding us in well-tuned three-part harmony what kinds of gifts are truly important. --Joshua Rosenblum
FANFARE Magazine - March/April 2002
CONTE The Gift of the Magi - Nicole Paiement, cond; Aimée Puentes (Della); Tim Krol (Jim); Elena Bocharova (Maggie); Chad Runyon (Henry); Branden Smith, Aaron DiPiazza, Gary Sorenson (Magi); San Francisco Conservatory New Music Ensemble - ARSIS CD - 141 (73:34; libretto by Nicholas Giardini included in program book).
The O. Henry short story "The Gift of the Magi" is one of the classics of American literature. It is Christmas Eve in early-20th-century New York. A young couple living in the tenements of the Lower East Side, Jim and Della, desperately poor and very much in love, both sell their most prized possessions in order to buy a Christmas present for the other. Jim sells his father's gold watch in order to buy Della expensive combs to hold her cascade of beautiful hair. Della sells her hair to buy Jim a gold chain for this watch. As the hold their beautiful but now useless gifts, they realize they have an even more precious gift-their love for each other. David Conte and his librettist, Nicholas Giardini, have turned this story into a lovely little chamber opera that should give organizations an alternative to Menotti's "Amahl and the Night Visitors".
Conte's music is tonal and very melodic, as is appropriate for a story this is about the magic of Christmas. His word setting is really quite wonderful, and he is helped in this immeasurably by the fine performances of Aimée Puentes as Della and Tim Krol as Jim. Throughout, their singing is entirely conversational, the words flowing as easily off their tongues as speech. They are completely convincing as the young couple sure their love will conquer all, and their final realization of their much deeper love for each other is very moving. Elena Bocharova and Chad Runyon are fine as the friends who help Della and Jim in their fruitless quests...Nicole Paiement's 14-member student orchestra plays beautifully, and the recorded sound is perfect.
There are no notes on the work itself, although there are bios for all the principals, the composer, and the librettist; there is also a libretto, which for once is pretty much unnecessary, given the excellent diction of the cast. It is unfortunate that this review could not appear in the December issues, when people were especially looking for new works dealing with Christmas, but in any event Arsis has a winner here. Recommended. --John Story
Lessons
Tim enjoys working with singers of all levels, from beginners to seasoned pros, and is sensitive to the unique vocal needs/abilities of each singer. He maintains studios in the Fort Greene/Clinton Hill section of Brooklyn, and in Midtown Manhattan.
Do any of these sound like you? If so, Tim can help!
You've always sung "in the shower" and think you're pretty good-- and now you're curious to explore what singing lessons are all about.
You sing in a chorus, and would like to improve your technique and/or sight-singing skills, so that you can feel more vital to the rest of the group.
You've been given difficult music to learn, and need one-on-one tutoring.
You sang in high school or college, but gave it up when you pursued another profession; now you realize it's time to get some singing back into your life!
You're a professional actor who needs to prepare an audition that involves singing.
Tim's teaching style is all about keeping things fresh, lesson after lesson, and as a result, students really enjoy their weekly progress, and develop their technique more solidly.
Tim has been steadily working as a NYC-based freelance professional singer since 2005. Regular venues include Carnegie Hall, Lincoln Center, Brooklyn Academy of Music, Symphony Space, 92nd Street Y, and others. Throughout the 1990s, while touring and recording with the Grammy Award-winning vocal ensemble Chanticleer, Tim taught hundreds of master classes with his eleven colleagues, all over the world.
Here are some testimonials from some of Tim's current students:
"I have been working with Tim for three years now, and I really have seen wonderful improvement...in my breathing, understanding of pitch, intervals, tempo and general music delivery. Tim is great!" Ray W., Architect, NYC
"I've tried to become a better singer all of my life, studying with voice teachers from coast to coast and in between (including Indiana University), but no one opened up my voice the way Tim Krol did, and it happened in just a few lessons! He's a gifted teacher. I recommend him without reservation to anyone who loves to sing, and wants to do it better." Brian F., NYC
"Working with Tim is a blast. He is personable and sensitive to my needs as a Musical Theatre performer. Since beginning my vocal sessions with Tim, I've noticed a stronger and more supported sound, as well as a newly found confidence in my audition technique. I also appreciate that he lends his experience as a working performer. He's "in the trenches," doing hard work and keeping his perspective fresh." Anissa Felix, Singer/Dancer/Actor, Brooklyn, NY
"Tim has taught me how to BREATHE. There's no more important skill for a choral singer than that. He makes everything understandable and fun. He also helped me with problems in choral situations, like non-tonal entrances. Sue F., Science Writer, New Jersey
Contact
For your convenience, this form will send email to timjkrol@mac.com.